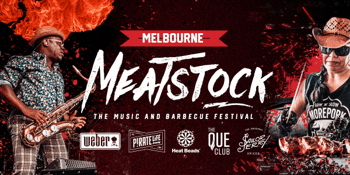 The Fat Apple Event Co presents
Meatstock Melbourne 2022
Melbourne Showgrounds (Ascot Vale, VIC)
Sat 26 - Sun 27 March 2022 11:00 AM
IMPORTANT EVENT INFORMATION - This event on 23-24 October 2021. has been rescheduled to 26-27 March 2022.

With COVID and travel restrictions still in place and wanting to ensure the best possible festival experience for everyone involved, we have no choice but to move the dates of Meatstock 2021.

Sydney 6-8 May 2022
Melbourne 26-27 March 2022

There is no need to do anything, your tickets remain valid and will be reissued to you automatically closer to the date.
We want to thank the teams, sponsors, food vendors, expo vendors, and of course you, for the overwhelming support and your patience during this time. We do hope you understand that it's out of our control.

We have a new website up with FAQ's and if you have any questions or issues, you can always email us directly at info@meatstock.com.au

Stay safe, be kind and stay positive. We'll see you soon!

****************************************************


. The Festival includes live music, demonstrations, food trucks, barbecue expo, live art, the Rod + Custom Rumble, competitions, free rides for the kids and refreshments by Yaks Brewing.

As always Meatstock will present some of the juiciest names in the music and BBQ scene, with this year's headliners the Alt Aussie rockers, Jebadiah, and our favourite international personality Big Moe Cason as well as three new American pitmasters, Wayne Mueller from Louie Mueller BBQ (USA) and Ronnie Evans and Philip Moseley from Blue Oak BBQ.

Over 50 teams from across Melbourne and counting will be battling it out at the fourth Meatstock Melbourne Barbecue Wars for $15,000 in cash and prizes and more importantly to be crowned the best barbecuers in the land. Our favourite butchers will also be back, going head to head to be Melbourne's best in the biz. What is sure to be a hit is the Melbourne Sausage Sizzle Throwdown! Professionals (yes, there are competitive rankings) will go up against anyone to compete for $1,500.00 cash and a multitude of prizes.

Please note: Tickets are valid all-day unless noted otherwise.