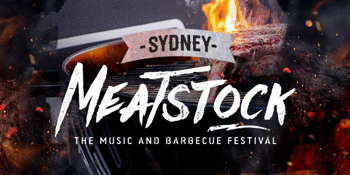 The Fat Apple Event Co presents
Meatstock Sydney 2019
Sydney Showground (Sydney Olympic Park, NSW)
Sat 4 - Sun 5 May 2019 11:00 am
Meatstock Sydney is back, bigger and meatier:
The carnival for carnivores returns to Sydney for another saucy festival
Meatstock has been smokin' up the Sydney Showgrounds for three years and will be bringing even more beef this year returning on the 4th - 5th May 2019 with tasty tickets on sale today at www.meatstock.com.au.
Meatstock will be hosting some of the meatiest names in barbecue and kicking off the special guest roster this year is none other than carnivores Chef Tom Jackson and Big Moe Cason hailing all the way from the U.S. These smokin' Pitmasters will be heading to Sydney to run demonstrations and masterclasses at the festival.
Chef Tom Jackson will be making the journey to Meatstock Sydney all the way from Kansas, USA where he was born and raised. Chef Tom throughout the years attended the Oregon Culinary Institute, Oregon where he studied culinary, baking and pastry skills while working as a cook in a variety of restaurants. After graduation, Chef Tom spent time as a bread baker and pastry chef at renowned Ken's Artisan Bakery in Northwest Portland. In that time, he found his barbecue calling when longtime friends the Cary family, owners of 'All Things Barbecue' was making its move, so Chef Tom and his family returned to Kansas to help 'All Things Barbecue' excel. Tom has been further developing and building cooking classes and private events at the renowned barbecue restaurant. Chef Tom continues to spread the meaty goodness via his YouTube channel @allthingsbbq which has over 18 million views since starting in 2010.
Big Moe Cason the legendary Meatstock veteran will be returning as he can't keep away from all the meaty goodness that Meatstock brings. Big Moe Cason is a favourite on TV's BBQ Pitmasters and has appeared as a judge and finalist on the US hit show, competing against some of the biggest names in barbecue worldwide. Big Moe has over 130 barbecue competitions under his belt. "What initially was a hobby is a way of life. I am passionate about maintaining the integrity of BBQ by cooking with authenticity, using simple recipes and honoring the history of BBQ," states Big Moe. "Meatstock Sydney is going to bring all its meaty goodness that it's so well known for. I can't wait to get back to Australia and catch up with all the punters and see what the teams serve up for 2019!".
Over 50 teams from across Australia and counting will be battling it out at Meatstock Sydney, a barbecue competition set in the calendar of Pitmasters across the world. Teams will be competing for over $12,000 in cash and prizes and more importantly to be crowned the best barbecuers in the entire land. Over 20 butchers from around the world will also be going head to head to win Sydney's best butcher. The annual event will also be hosting another round of Culley's King of the Que - a competition using a traditional barbecue to find the nation's best burger, wings, steak and bacon with the winner going on to Texas to represent Australia in the World Steak Championships.
The pro-protein festival is taking place in Sydney from the 4th - 5th May, featuring bands and barbecues, butchers and bourbon and plenty of beer.
The flaming hot, two day lineup includes competitions such as the 'Barbecue and Butcher Wars', as well as demonstrations and workshops. The event is garnished with a backdrop of live bands, BBQ inspired food trucks and craft beer from Yaks Ales.